18 Mar

Extreme Daredevil Destinations

Are you a fearless traveler seeking some excitement in your voyages? If so, the following six countries must be visited for an unparalleled adrenaline rush!
NICARAGUA : Volcano Boarding
Too hipster for snowboarding? Make a day trip out to Cerro Negro, Nicaragua, to try out the most extreme way to slide down a slope.
Kick up some black volcanic dust while reaching speeds of up to 80 km/h along its 40˚ slopes! You may also want to pray that this active volcano does not erupt during your boarding session. But fear not, lava only travels an average of 10 km/h, well under your boarding speed.
This activity is run by Bigfoot Nicaragua. It includes a 45-minute hike up the mountain, a boarding session, and mojitos. You can also dig a hole and bury your food inside it for a volcano-cooked lunch  awaiting you after your descent.
Address: Volcan Cerro Negro, Leon, Nicaragua
Cost: US$31, excluding US$5 park entrance fee
Where to stay:
Price: $
Address: Del Banco Procredit, 1/2 cuadra al sur, Leon, Nicaragua
If you love partying and the camaraderie of staying in a hostel, this is the place to park your bags. Make plenty of new friends here while sipping on freshly-made mojitos. Besides, it's the organizer of the volcano boarding sessions.
2. Hotel Azul
Price: $$
Address: De la Catedral, 2 cuadras y 1/2 al Norte, Leon, Nicaragua
Cool off after your volcano boarding session with a dip in the gorgeous pool of Hotel Azul.
Price: $$
Address: Iglesia La Merced, 1 cuadra al norte, Leon, Nicaragua
Rest your sore muscles in this 4-star colonial hotel with splendid views. Extremely value for money.
ICELAND: Kayaking over waterfalls
Take a leaf out of extreme kayaker Tyler Bradt's book and paddle down a waterfall. Your heart will certainly leap out of your mouth during the short free-fall in the midst of rapidly-gushing water. Prepare to swallow ice-cold water during the landing. Iceland has the best waterfalls, with awe-inducing drops and ridiculously blue waters.
Iceland's waterfall landscape is endlessly exciting. Goðafoss, or the "Waterfall of the Gods", is considered the crowning jewel of Icelandic waterfalls and kayakers attract crowds at any time of the day.
Another waterfall to try out would be Thjofafoss, or the "Waterfall of Thieves", known to boaters as the "Drowning Drop", as it is the most dangerous waterfall to kayak over. This activity is not for novice kayakers and weak swimmers.
After making it over the waterfall, you can then kayak around locations like Jökulsárlón lake at the foot of the Vatnajökull Glacier
Address: Thjofafoss, south of Búrfell, south Iceland, Goðafoss, Bárðardalur, north-central Iceland, Jökulsárlón, Vatnajökull National Park, southeast Iceland
Where to stay:
1. Guesthouse Elin
Price: $
Address: Flagbjarnarholt, 851 Flagbjarnarholt, Iceland
  After kayaking at Thjofafoss, you might even catch the Northern Lights from this guesthouse!
2. Raudaskrida Hotel & Guesthouse
Price: $$
Address: Raudaskrida, 641 Þóroddsstaður, Iceland
A gorgeous hotel near Goðafoss, Raudaskrida allows you to stay in cozy wooden cabins with modern comforts.
3. Einishus Cottages
Price: $$$
Address: Einarsstadir 2, 650 Laugar, Iceland
These cottages of unique Icelandic architectural design are spacious and perfect for post-kayaking relaxation.
PORTUGAL: Cliff-diving
The Azores are definitely one of the last paradises in Europe. In fact, the lost city of Atlantis could have been here. On this Portuguese archipelago, daredevils can take a giant dive 27m off the top of a colossal pillar of volcanic stone located at Islet Vila Franca do Campo, located off the coast of São Miguel.
Host to the Red Bull Cliff Diving World Series for five years in a row, this monolith was previously part of a crater of an ancient underwater volcano. The crystal clear waters are sufficiently deep to leap into from such great heights, and the view from other parts of the islet are breath-taking as well.
Address: Islet Vila Franca do Campo, Azores, Portugal
Cost: Free
Where to stay:
1. Furnas Boutique Hotel – Thermal & Spa
Price: $$
Address: Avenida Dr. Manuel de Arriaga, 9675-000 Furnas, Portugal
   A beautiful location with indoor and outdoor thermal swimming pools, treat yourself to an immersive spa experience after getting your adrenaline rush from cliff-diving.
2. CK Seaside Guest House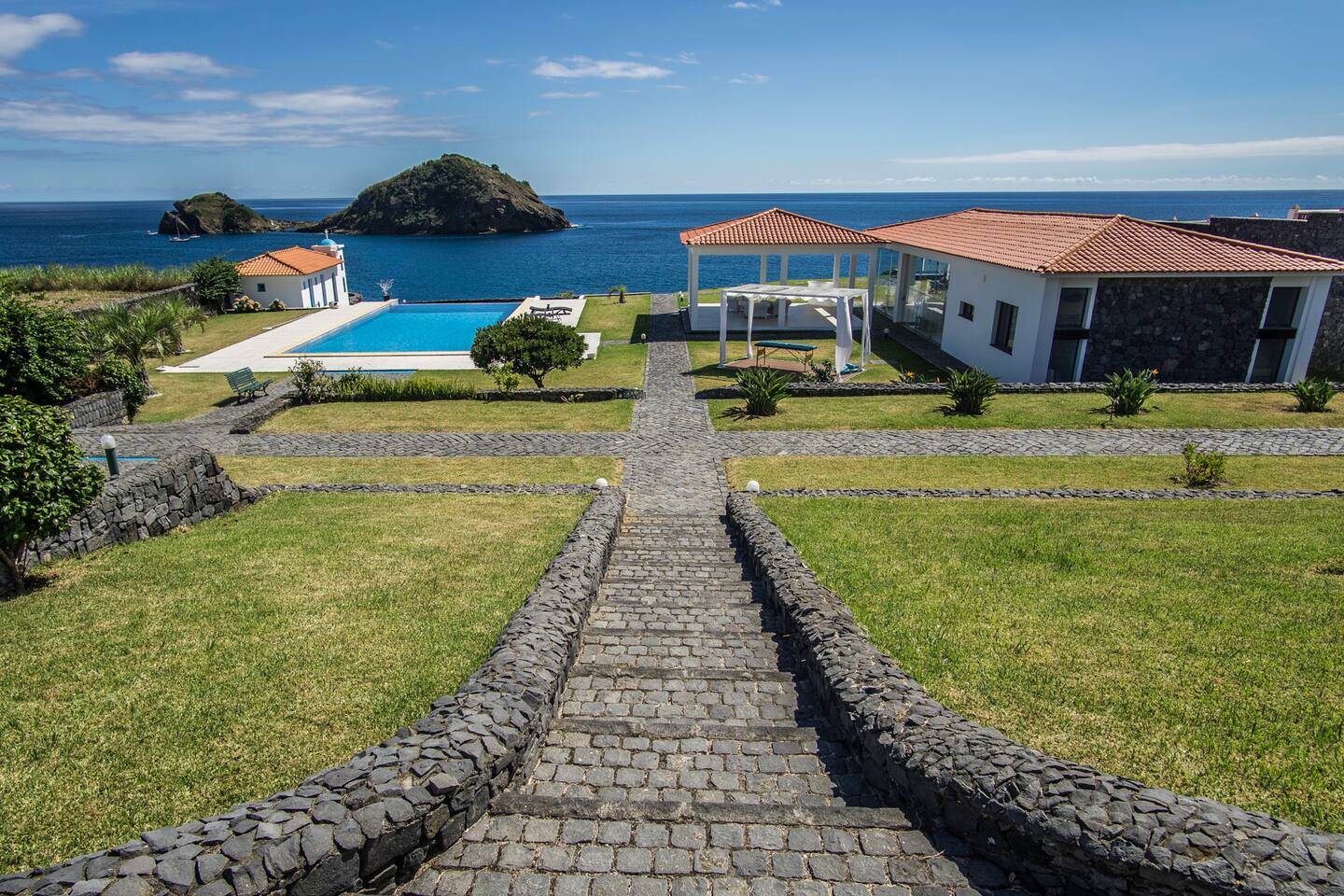 Price: $$$
Address: Av. Bombeiros Voluntarios, 1, 9680-102 Vila Franca do Campo, Portugal
Featuring a gorgeous infinity pool for your perfect Instagram pool photos, you might even be able to swim over to the monolith to cliff-dive. At night, clear skies also reveal the Milky Way from your room balcony.
3. Convento de São Francisco
Price: $$
Address: Rua Padre Jose Jacinto Botelho, 5 | Furnas, Furnas, Povoacao, Sao Miguel 9675-061, Portugal
How many people can say that they have stayed in a 17th-century Franciscan convent? Now you can stay in one too. You can also enjoy the warm Portuguese climate on the sunny terrace of this renovated monastery.
FRANCE: Stepping into the void
Be careful, your legs might go weak as you stand in this 2.5m glass cube over a 1000m-high precipice, named A Step Into the Void. Situated at the peak of the Aiguille du Midi, 3842m above sea level in the French Alps, this unique technological feat will allow you to marvel at the natural beauty of the French, Swiss, and Italian Alps perched atop the tallest snow-capped mountain of the Aiguilles de Chamonix.
With nothing below your feet but your shoes and hardened 1cm glass panels, soak in the sublime alpine sunlight and feel your heart skip a beat at the view right between your feet.
Make sure to also ride the gondola lift over the Glacier du Géant to the Pointe Helbronner in Italy if you visit in June to September for a panoramic view.
Address: Aiguille du Midi, 74400 Chamonix, France
Where to stay:
Price: $$
Address: 149 Allée Recteur Payot Bp 135, 74440 Chamonix-Mont-Blanc, France
This hotel is a 3-minute walk away from the Aiguille du Midi ski lift and is a fantastic spot to stay while exploring the Chamonix region. Some rooms also have an amazing view of Mont Blanc.
2. Hôtel L'Heliopic Sweet and Spa
 Price: $$
Address: 50 place de l'Aiguille du Midi, 74400 Chamonix-Mont-Blanc, France
You can enjoy luxurious amenities such as a Turkish steam bath, an ice cave, an indoor swimming pool, a tepidarium and a sauna in this spa hotel. There is also a fireplace area for you to read a book or catch up on social media while warming your cold feet.
3. La Cubelette

Price: $$$
Address: 47 route Benoit Couttet, 74400 Chamonix-Mont-Blanc, France
Horse lovers can eat their breakfast with a view of the horses right outside the chalet. A very conveniently-located place to stay, the Chamonix-Planpraz ski lift is only 1.8km away. You can also prepare your own dinner in the kitchen or on the outdoor barbecue.
AUSTRALIA: Cage of Death
Engage in a stare-off with William and Kate. No, not the British monarchs. William and Kate are two saltwater crocodiles named after Prince William and Princess Kate, inhabitants of Crocosaurus Cove, whom you will meet when you enter the Cage of Death.
Separated by a mere few centimetres of clear acrylic, you will be lowered into the water above the crocodiles before facing off with them in their enclosure. In Australia's sole crocodile diving experience, you can watch William, Kate, Chopper, and other crocodiles thrashing around right next to you as they feast on chunks of meat.
The Cage of Death can fit up to two people. True daredevils can go in solo, while others can go in pairs so that they can hold someone's hand.
Address: Crocosaurus Cove, Darwin Crocodile Park, 58 Mitchell St, Darwin
Where to stay:
1. Argus Hotel
Price: $
Address: 13 Shepherd Street, Darwin CBD, 0800 Darwin, Australia
Walking distance from Crocosaurus Cove (only 600m away!), this hotel is the most value for money in the Darwin CBD.
2. H Hotel
Price: $$
Address: 81 Smith Street, Darwin CBD, 0800 Darwin, Australia
Another hotel located right next to Crocosaurus Cove, this location is also extremely convenient for traveling around other parts of Darwin as there is a bus stop right in front of the hotel entrance. It is also a 5-minute walk from here to St Mary Star of the Sea Catholic Cathedral.
3. Apartment Ramada Suites Zen Quarter
Price: $$$
Address: 6 Carey Street, Darwin CBD, 0800 Darwin, Australia
Featuring an outdoor saltwater pool, guests can also take a 5-minute drive to Mindil Beach – known for its handcrafted souvenirs and breath-taking sunset views – from here.
SWITZERLAND: Trift Bridge Hiking
Trekking enthusiasts will love the Trift Bridge, a magnificent suspension bridge stretching over the Trift Glacier in the Bernese Highlands. One of the longest and highest pedestrian suspension bridges in the Alps, with a height of 100m and length of 170m, you will be rewarded with spectacular sights of the lake and the glacier following the hike.
The original rope bridge was actually replaced in 2009 with a sturdier model made of reinforced steel, but hikers can still feel it sway in the breeze when crossing.
Take the Trift aerial cable car across the Trift Gorge and up to the Trift Valley to experience this gravity-defying bridge. There are also different trekking routes for adventurers to explore and conquer, depending on your fitness levels. Enjoy the adrenaline coursing through your veins as you walk on the bridge, but try not to drop anything!
Address: Trift Bridge, Gadmen, Switzerland
Where to stay:
Price: $
Address: 3863 Gadmen, Switzerland
The sole mountain cabin in the Trift Valley, this is the perfect departing point for hiking across the Trift Bridge.
2. Alpenrose Gadmen – Gasthaus
Price: $$
Address: Sustenstrasse 342, 3863 Gadmen, Switzerland
Lounge by the fireplace or head out to the hiking trails or a cross-country ski run, which are right outside. The Meiringen-Hasliberg Ski Area is 20 km away.
3. Hotel Wetterhorn

Price:  $$
Address: Hohfluh, 6083 Hasliberg, Switzerland
Enjoy traditional Swiss cuisine in the on-site restaurant as well as concerts that take place throughout the year.
The world is full of adventure. Hopefully, you can travel to these extreme destinations and tick some items off your bucket list.